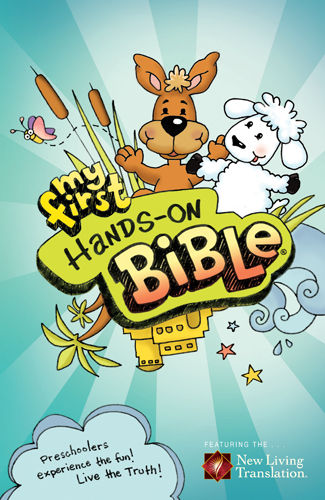 M
y First Hands-On Bible is the preschooler version of the popular
Hands-On Bible, which has sold over a half million copies. Jesus taught with hands-on lessons and illustrations; My First Hands-On Bible uses the same experience-based learning to communicate God's Word in an active, understandable way. My First Hands-On Bible is a fun and simple yet meaningful way to engage preschool, pre-K, and K children (ages 3-6) with the Bible while helping them build a solid faith foundation. Each lesson focuses on a specific Bible point through a variety of activities in order to reinforce and help young children remember the stories and lessons. Using common household items, you can help your children have a "hands-on" learning experience while engaging them in 85 key stories from the Bible. My First Hands-On Bible doesn't just retell the Bible stories; it also includes actual Scripture from the easy-to-understand and easy-to-read Holy Bible, New Living Translation. In addition to the stories and activities, there are fun illustrations, prayers, and a special Jesus Connection feature.

From the Back Cover
The Bible young children can really get their hands on!

Go from just reading the Bible with your kids to experiencing it! My First Hands-On Bible does what no other Bible can—it brings the Bible to life with fun activities and games that tie directly to the Bible stories.
My First Hands-On Bible features
85 exciting Bible stories from the clear and easy-to-understand New Living Translation

"Jesus Connections" to help kids see Jesus throughout the Bible

Colorful, original illustrations

Exciting activities and top-notch games created by the people who brought you the award-winning Hands-On Bible curriculum
With My First Hands-On Bible, kids will get into the Bible, and the Bible will get into their hearts, giving them a priceless foundation of faith in God.
Reading level: Ages 4-8
***
Perfection. Such a relative thing really. What is perfect for one, another sees only flaws. A Bible is highly personal and people have opinions. This particular Bible is written for little ones..."Jesus said to them, `Let the little children come to me, and do not hinder them, for the kingdom of God belongs to such as these. Truly I tell you, anyone who will not receive the kingdom of God like a little child will never enter it.'" ~Mark 10: 14 & 15~ Mind you..."do not hinder them...". The Hands-On Bible" is an easily accessible ( read that as non-hindering) Bible for children. This is key, for our smallest children, have equally small attention spans and if you ever find a Bible (or nearly anything else for that matter) that can capture their attention for any length of time and that "thing" is beneficial (no, Spongebob does not count) then ye had best hold onto it and encourage it. A lifelong relationship with Jesus is a gift. The greatest gift that any parent can give. Far and beyond anything else, it is a duty, that I think every parent should take with the highest regard. Well, now, Tyndale has made that goal so much easier and dare I say...fun? Yup, fun and scriptural. That's right this Bible is scripture, not stories. Perfection? Mayhaps. I know that if you, as a parent or caregiver can present God to a child in a beautiful and friendly way then that child has a better chance of finding his or her 'way' through the narrow gate. Show them, lead them, love them.
*Tyndale House Publishers has provided me with a complimentary copy of this book or ARC.