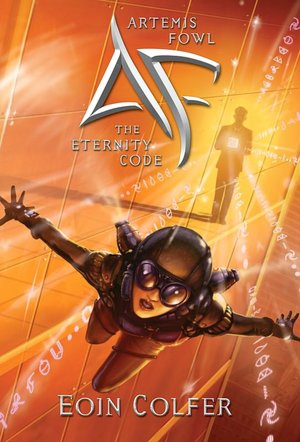 Publisher: Miramax (May 7, 2003)
Language: English
ISBN-10: 0786819146
ISBN-13: 978-0786819140
Artemis Fowl II, the 13-year-old criminal mastermind, has created a supercomputer which he calls the "C Cube", from stolen fairy technology. It far surpasses any human technology made so far.[1] When Fowl meets Chicago businessman Jon Spiro to show him the Cube, Spiro ambushes Artemis and steals it. In the process, Butler, his bodyguard is killed by one of Spiro's staff. However, Artemis manages to revive him with the aid of cryogenics and fairy healing magic, courtesy of Captain Holly Short of the LEPrecon squad.
After Butler is revived, Artemis convinces the LEP to track down the Cube. They agree on one condition: that Artemis' mind is to be wiped later. They head to The Spiro Needle, where Jon Spiro has held the Cube. The Cube is recovered with the aid of Butler's sister and Mulch Diggums, who is later incarcerated. Nearing the end of the book, Mulch discovers that Artemis has cleared him of all charges and tasked him with restoring Artemis' memory, which is wiped at the end. In the epilogue, it is revealed that the LEP questioned him to reveal any plans he had to retain his memory, but he managed to fool them, and his plans remained secret from the LEP..
*Wikipedia
***
I enjoy YA fiction. There it's been said and can't be undone. YA fiction is not highbrow...you'll not find anything terribly challenging about it. No heady undertones, no deep philosophical meanings that keep your mind reeling for years, no life changing messages. It is not fiction that you will be discussing over espresso at some artsy French cafe. It won't impress your intellectual friends at cocktail parties and it won't up your image sitting neatly next to you at a board meeting.
YA fiction is pure entertainment. It is what one might reach for when they just need a break for awhile. It's where you go in your mind when no one else is looking. It is ice cream at 2 a.m. with heaps of hot fudge and nuts and whipped cream. It is comfort and juvenile joy, a favored sweater that is perhaps dated and (gasp!) colorful. YA fiction whisks the reader away from the cares and trials of daily life on wings of fantasy. It is or it can be sublime when written with care. Too much of it is written without thought and with simply an eye toward profit because let's face it young adult readers are not very discerning readers. Eion Colfer has managed to pen a series of books that are endearing and entertaining and that this reviewer has enjoyed immensely. I can't thank Mr. Colfer enough for giving me that little break from reality, that special treat at the end of a long day. That is a gift that is truly priceless.
From Wikipedia: Artemis Fowl
is a series of eight
science fantasy
novels written by the Irish author
Eoin Colfer
, starring teenage criminal mastermind
Artemis Fowl II
. Colfer summed up the series as: "
Die Hard
with fairies."
[2]
There are seven novels in the series; the first was published in 2001 and the seventh was released in 2010. The eighth and final book is set to be released 10 July 2012. A graphic novel was released in 2007, and a second in 2009. A third graphic novel and a movie are currently in the writing process.
***
Eoin Colfer (pronounced Owen) is the New York Times best-selling author of the blockbuster Artemis Fowl series as well as Airman; Half Moon Investigations; The Supernaturalist; Eoin Colfer's Legend of... books; The Wish List; Benny and Omar; and Benny and Babe. He was born in Wexford on the southeast coast of Ireland in 1965, where he and his four brothers were brought up by his father (an elementary school teacher, historian and artist of note) and mother (a drama teacher). He first developed an interest in writing in primary (elementary) school with gripping Viking stories inspired by history that he was learning in school at the time.
Eoin got his degree from Dublin University and qualified as a primary school teacher, returning to work in Wexford. He married in 1991 and he and his wife spent about 4 years between 1992 and 1996 working in Saudi Arabia, Tunisia and Italy. His first book, Benny and Omar, was published in 1998, based on his experiences in Tunisia; it has since been translated into many languages; a sequel followed in 1999. In 2001, the
first Artemis Fowl book was published worldwide to much success - shortly thereafter he left teaching to concentrate fully on his writing. To this day, Eoin has written 6 Artemis Fowl books which have sold over 12 million copies worldwide.
***
Novels in this series
:
* I received an advance copy from the publisher for purposes of review. I was in no way obligated to write a review much less a favorable one. The opinions stated herein are all my own.