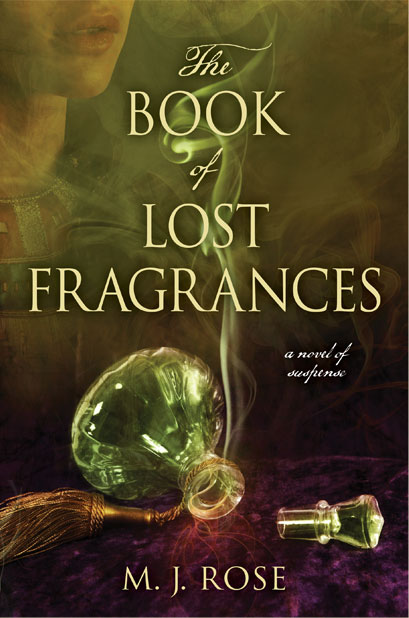 Hardcover: 384 pages
Publisher: Atria Books (March 13, 2012)
Language: English
ISBN-10: 1451621302
***
***
Read an excerpt from The Lost Book of Fragrances.
But when from a long-distant past nothing subsists, after the people are dead, after the things are broken and scattered, taste and smell alone, more fragile but more enduring, more unsubstantial, more persistent, more faithful, remain poised a long time, like souls, remembering, waiting, hoping, amid the ruins of all the rest; and bear unflinchingly, in the tiny and almost impalpable drop of their essence, the vast structure of recollection.
—Marcel Proust,
Remembrance of Things Past
Chapter 1.
Alexandria, Egypt, 1799
Giles L'Etoile was a master of scent, not a thief. He had never stolen anything but one woman's heart, and she'd always said she'd given that willingly. But on this chilly Egyptian evening, as he descended the rickety ladder into the ancient tomb, each tentative footstep brought him closer to criminality.
Preceding L'Etoile had been an explorer, an engineer, an architect, an artist, a cartographer and, of course, the general himself—all the savants from Napoleon's army of intellectuals and scientists now stealing into a sacred burial place that had remained untouched for thousands of years. The crypt had been discovered the day before by the explorer Emile Saurent and his team of Egyptian boys, who had stopped digging when they unearthed the sealed stone door. Now the twenty-nine-year-old Napoleon would have the privilege of being the first man to see what had lain lost and forgotten for millennia. It was no secret that he entertained dreams of conquering Egypt. But his grand ambitions went beyond military conquests. Under his aegis, Egypt's history was being explored, studied and mapped.
***
What a truly lovely novel this was to read. A love story spanning the ages, an intricate mystery set in the recesses of time...all of this set in some of the most beguiling and intriguing locations around the world. It was, for me, the ideal way to escape the 'real world' for awhile...just kick up my feet and allow myself to be transported into a fictional world that seemed so familiar and yet magical, surreal. MJ Rose has crafted that rare novel that manages to be believable and fantastical at the same time.
Oh, and what's not to love about a book that launches with it's very own personalized signature fragrance?
Discover the perfume inspired by The Book of Lost Fragrances



Pre-order The Book of Lost Fragrances and we'll send you a free sample of Âmes Soeurs, the Scent of Soulmates. This exclusive fragrance, inspired by the novel, was created by Joya Studios and is not yet for sale.

Just use one of the above links to buy the book and then email the receipt, or a scan of it, to LostFragrances@gmail.com. Include 1) your name, and 2) snail mail address so we can send you the fragrance. (no post office box addresses, please!
M.J. Rose (www.mjrose.com) is the international best selling author of eleven novels and two non-fiction books on marketing. Her next novel THE BOOK OF LOST FRAGRANCES (Atria/S&S) will be published in March 2012.
Her fiction and non-fiction has appeared in many magazines and reviews including Oprah Magazine. She has been featured in the New York Times, Newsweek, Time, USA Today and on the Today Show, and NPR radio.
Rose graduated from Syracuse University, spent the '80s in advertising, has a commercial in the Museum of Modern Art in NYC and since 2005 has run the first marketing company for authors - Authorbuzz.com
The television series PAST LIFE, was based on Rose's novels in the Renincarnationist series. She is one of the founding board members of International Thriller Writers and runs the blog- Buzz, Balls & Hype.
She is also the co-founder of Peroozal.com and BookTrib.com.
Rose lives in CT with her husband the musician and composer, Doug Scofield, and their very spoiled and often photographed dog, Winka.
* I received an advance copy from the publisher for purposes of review. I was in no way obligated to write a review much less a favorable one. The opinions stated herein are all my own.