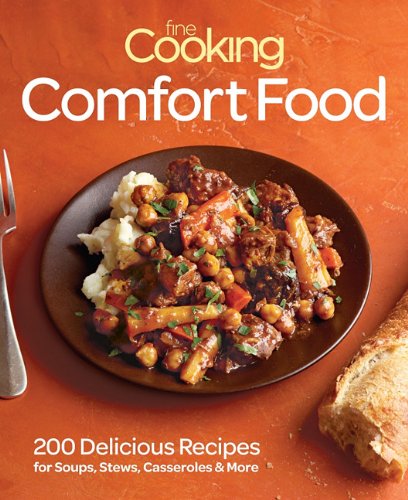 Serve up delicious, soul-satisfying food any night of the week with this new recipe collection from Fine Cooking. Among the 200 favorites are classics like meatloaf, beef stew, and macaroni and cheese as well as modern updates and ethnic specialties such as Thai curry, Moroccan vegetable ragout, and Brazilian chicken and shrimp. Cooks will gain confidence and get great results every time thanks to Fine Cooking's signature tips and secrets from the pros, step-by-step photos to help master techniques, ingredient profiles, shortcuts, and handy kitchen advice. Fine Cooking Comfort Food serves up one delicious cookbook.

Fine Cooking features friendly, hands-on advice written by America's culinary experts and provides reliable recipes, inspiration, and trusted advice for cooks of all skill levels.
This collection includes 200 triple-tested recipes for main dishes like soups, stews, casseroles, and one-pot meals; sandwiches; breakfasts; desserts; and more from Fine Cooking's test kitchen.
The no-fail tips and techniques from culinary professionals are illustrated with step-by-step photos.
With its loyal following, Fine Cooking is consistently one of the top five best-selling cooking magazines at bookstores and newsstands everywhere.
***
For thousands of readers, Fine Cooking Magazine has been and continues to be their go-to source for inspiration when heading into the kitchen. No doubt you have a few tattered, clipped recipes of your own tucked away. Finally. the editors have compiled the very best of the best comfort foods that are usually the backbone of every cook's repertoire. No more searching the interweb for that perfect soup recipe.
Choosing only 200 from tens of thousands of recipes must have been a daunting task but one that I think the publishers over at Fine Cooking did admirably well. The selection criteria included not only great taste, but also had to stand up to Fine Cooking's high standards. You'll find old favorites such as beef stew, macaroni and cheese and chicken pot pie along side more contemporary recipes like baked potato and leek soup with cheddar and bacon.
Just like the magazine, this cook book has great illustrations and instructions. It is great for people who love to cook and who really love to eat and know food. All of the recipes are well thought out and precise, yet not overly complicated. I find it much more "user friendly" then MANY of the other cook books out there, and trust me, I own a lot of them. Fine Cooking is the one I reach for most often. It is worth savoring every last morsel...and then some.
All in all, this is a fabulous addition to the Fine Cooking catalogue by the folks at Taunton, who always manage to lure us with those luscious food cover photos as we exit the grocery store.
***
* I received an advance copy from the publisher for purposes of review. I was in no way obligated to write a review much less a favorable one. The opinions stated herein are all my own.