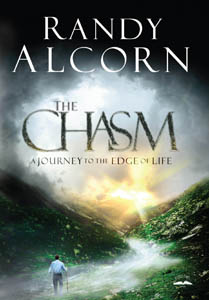 The Chasm
By: Randy Alcorn
Multnomah Books / 2011 / Hardcover
From the Publisher:
A Journey He Couldn't Miss… and a Step He Couldn't Take

He found himself a traveler in the strangest of lands. Where invisible secrets come starkly into sight. Where the fairest of companions leads the way into unsuspected danger and darkness. Where hidden battles burst into the open. Where so much is grasped…and so much more seems unattainable.
Driven by a yearning he doesn't understand, compelled toward a destination he can't quite see, the traveler navigates the inhospitable landscape with determination and a flicker of something like hope—despite the obstacles that seem to unerringly block his path.
Best-selling novelist Randy Alcorn weaves a supernatural interplay of wills and motives, lusts and longings, love and sacrifice. It's a potent mix that leaves every reader wondering: Do I really understand this world I live in? Do I really understand myself? Is there more to all this than I've ever dared hope?
INCLUDES 12 ORIGINAL ILLUSTRATIONS
I seriously was looking forward to reading this book. Unfortunately, as I snuggled up and began to read I was struck by a strong sense of deja vu. Had I read this book before and simply forgot? But no, that couldn't be it...this is a new release. Right?
Well sort of. What it really is, is a rewriting of "Edge of Eternity." Some of it hauntingly exact in it's replication. If you haven't read "Edge of Eternity" it is an allegory of a man that experiences death to self through the cross of Christ (as is 'Chasm" for that matter). Whereas, "Edge of Eternity" is a magnificent book, "Chasm" tends to leave the reader feeling a bit winded by its pace and at some level the reader feels like a chunk of the message is missing. Read the "Chasm" if you must but I much prefer "Edge of Eternity".
"
I received this book for free from WaterBrook Multnomah Publishing Group for this review".